Lisbon the capital of Portugal. It is a beautiful city which is built on 7 hills and home to around 500.000 people in the central administrative area. Lisbon is one of the oldest cities in Europe, older than Rome, Paris and London. Only Athens in Greece is slightly more mature. Get all your Lisbon Travel Tips with the Lisbon Travel Guide and get the most out of your trip.
Lisbon history
Officially, Lisbon is not the capital because there are no official documents of it. A long ago King Afonso III ruled here from Lisbon and because it is the largest city in the country, it automatically became the capital. When you watch the Lisbon Travel Guide you see that the city is a big open-air Gym. Because of the hills it is all the way up and down. Just like the Venagboys song. But I have to say it is good for muscles and health. You can walk here for hours through this beautiful city and enjoy beautiful views.
Flights to Lisbon, Travel to Lisbon city
In Europe there are many cheap flights to Lisbon and also direct connections from all over the world. The most common way to travel to the city is by taxi or bus. A single taxi journey will set you back around 10-20 euro. Within the city I always use the Uber Taxi service because it is cheap and fast!
Alfama
We start this Lisbon Travel Guide with the old neighborhood Alfama. Pretty special that this district is still there, because Lisbon was hit by a heavy earthquake in 1755. Miraculously, this neighborhood was reasonably spared. Lovely authentic buildings and narrow streets. My advice is to take some time to walk around in this district. There are a lot of great viewing points in Alfama, mostly over the Tejo river. Nice places to make the best pictures to get all your followers and friends jealous.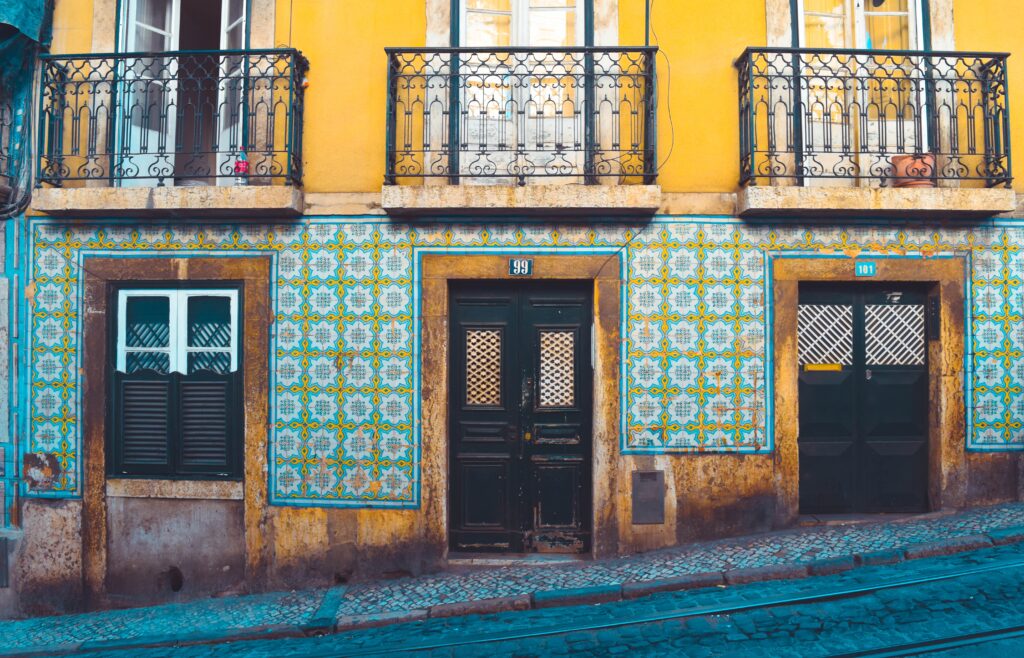 In Alfama you see a lot of the famous painted tiles also called "Azujegos". What the city looked like before the devastating earthquake they show in this drawing.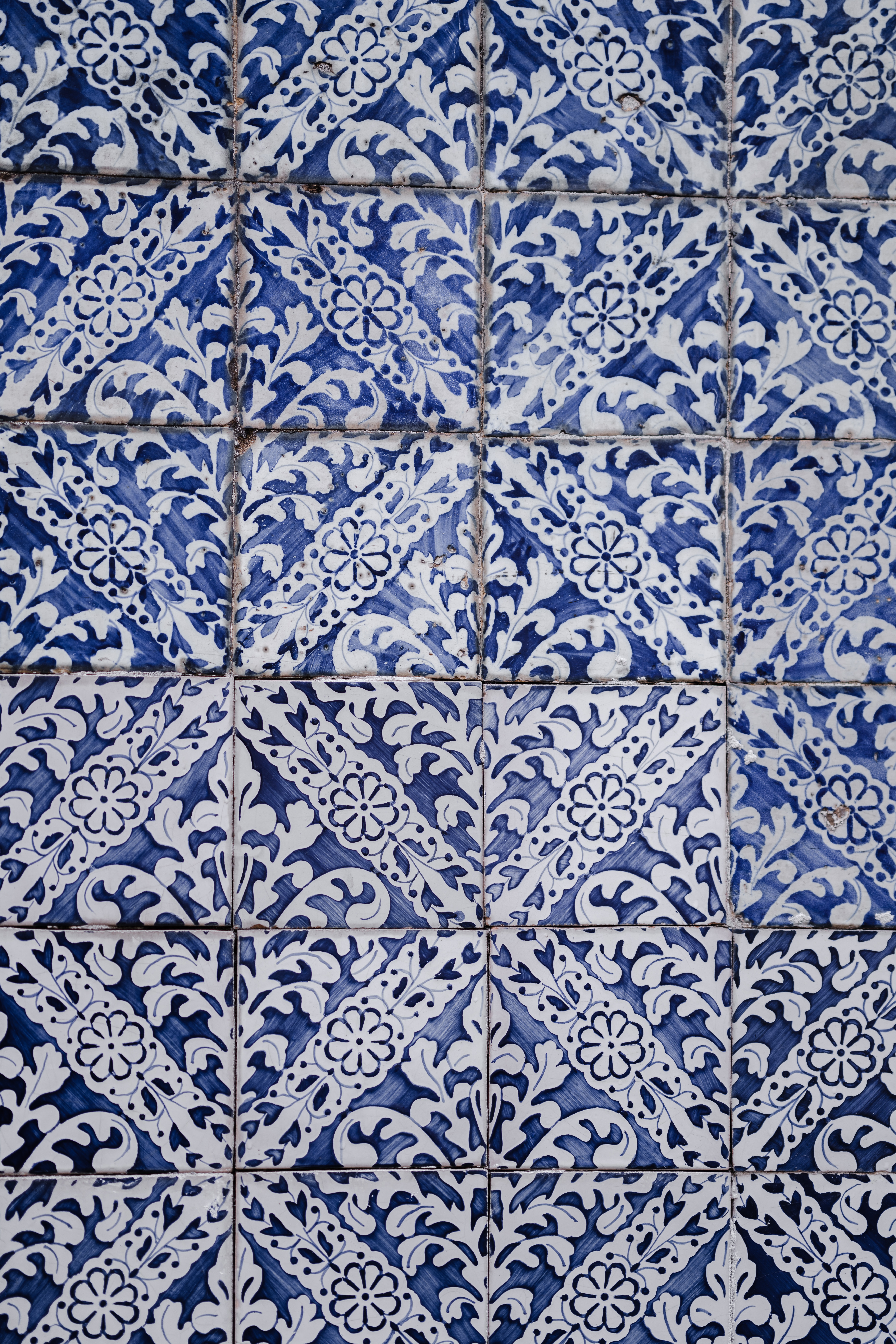 Castle São Jorge (Castelo de São Jorge)
The monument you can't miss in Alfama is a beautiful castle, São Jorge. A part of this castle was built in the 6th century before christ.
It's located on the highest hill in Lisbon and that means that you have a wonderful view! The archaeological experts have found here remains of the Phoenicians, the Greeks, the Carthaginians, the Romans and the Arabs, thus confirming the occupation of this region in distant times. The castle was recognized as a national monument in 1910 and was extensively restored in the 20th century, giving it its current appearance. It is one of the main locations of the city and is much visited by the population of the surrounding neighborhoods. The castle is on the highest hill in the city which means that you have the best of Lisbon and the Tejo River here.
You can easily book your tickets for the castle with this link. With this ticket you can also skip the line.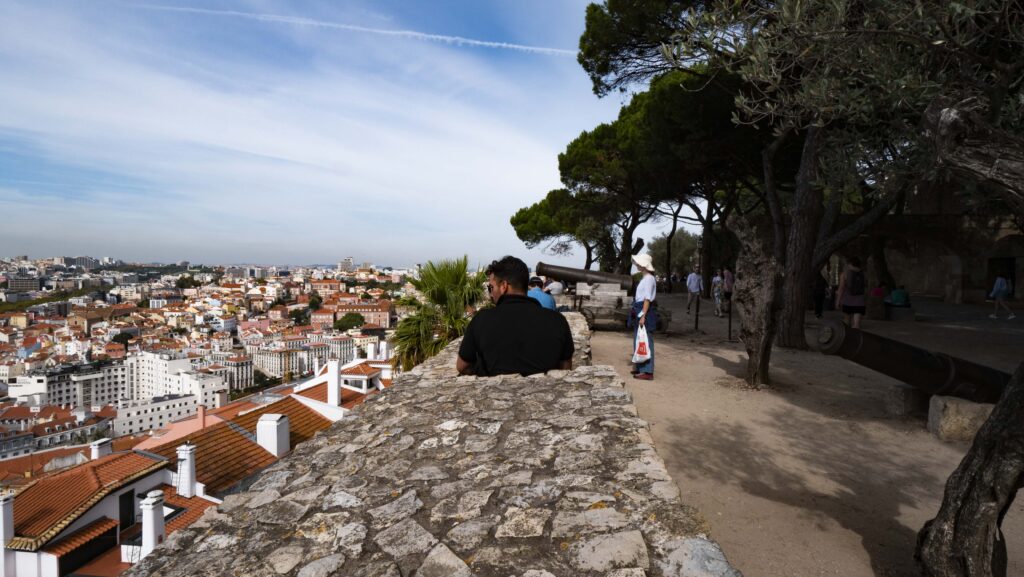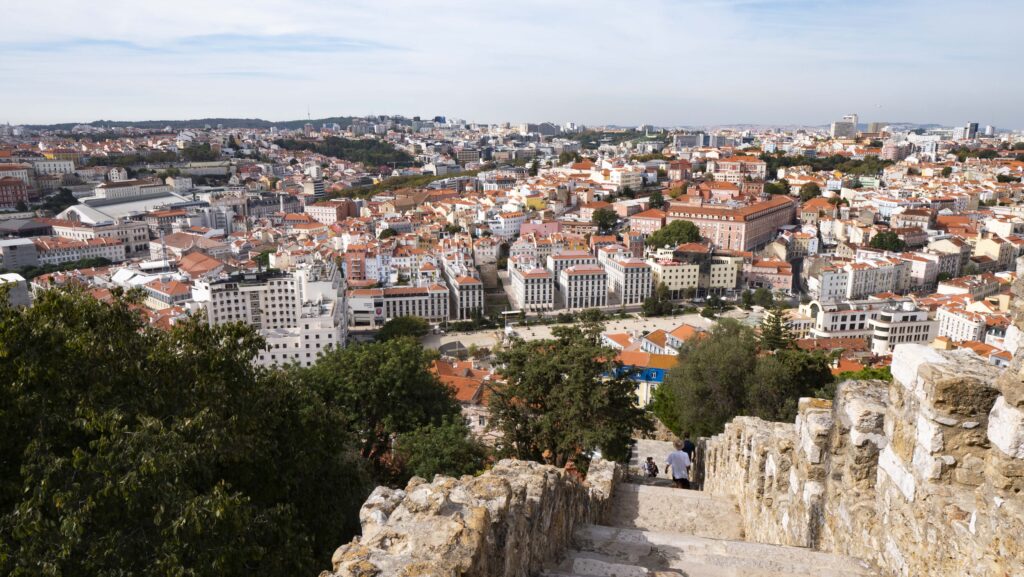 Streetcar in Lisbon
To help you a bit with those heights, streetcars have been running here since 1873. This is also a great authentic attraction. You can start your streetcar journey at Praça do Martim Moniz. The most famous service is streetcar 28 and it takes you right through the old town. You can buy your ticket in the streetcar and a single journey will set you back around 3 euros. There is a departure every 10 minutes. Keep in mind that it is a main tourist attraction so the waiting line can be long. In Porto in Portugal streetcars drove earlier than in Lisbon.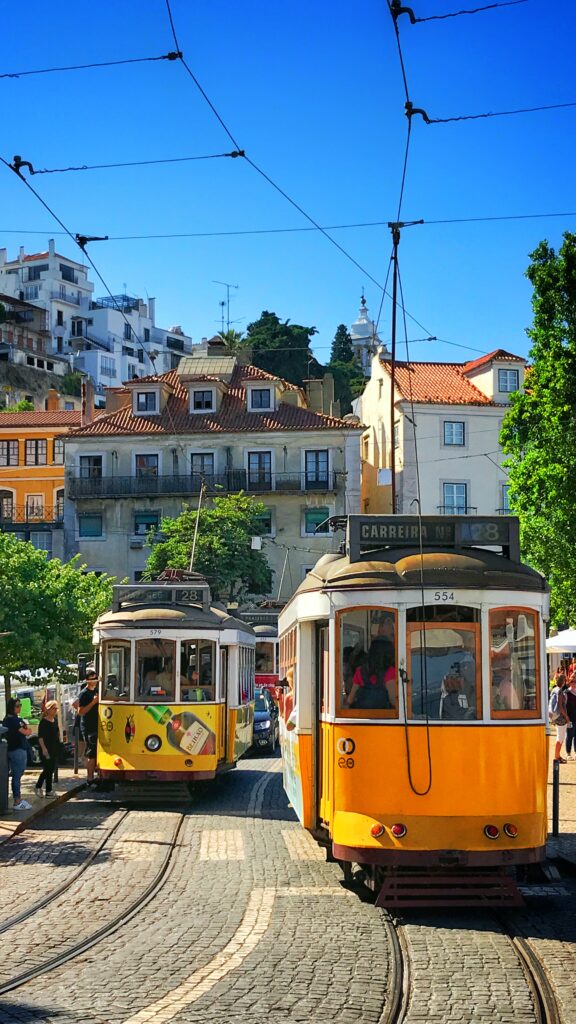 Baixa – Lisbon center
The district I describe as the "real" city center is Baixa. This is the place where you will see a lot of nice squares and the most famous one is Praça do Comércio. It's called the palace square, because there was a palace on this place in the past., the Ribeira Palace. It was destroyed during the big earthquake in 1755. The square is next to the Tejo River and when you walk to the river you will see a lot of nice places to take a seat and relax with a beautiful view over there water. Baixa is also known for the many shops, it's certainly a good district if you want to shop.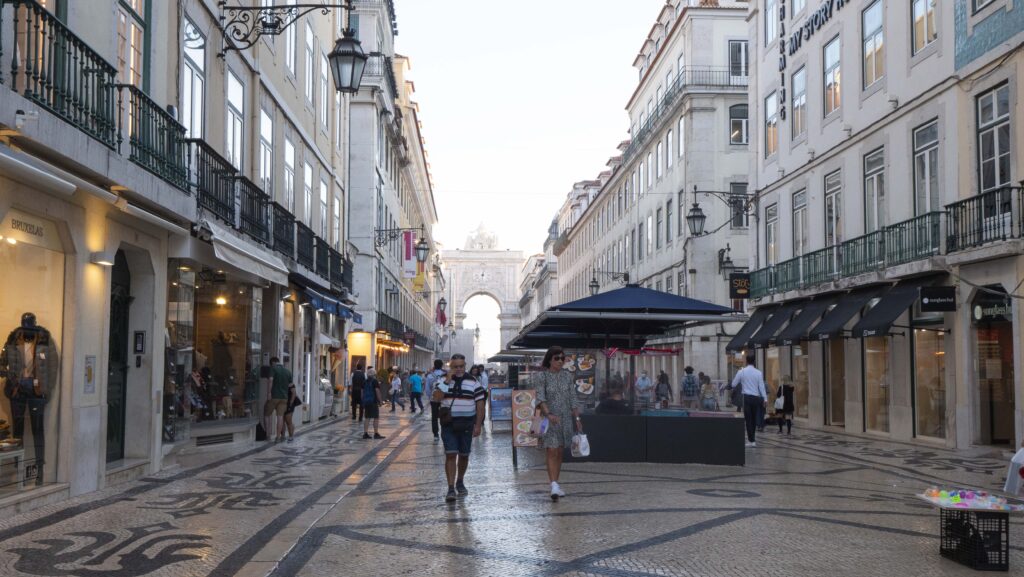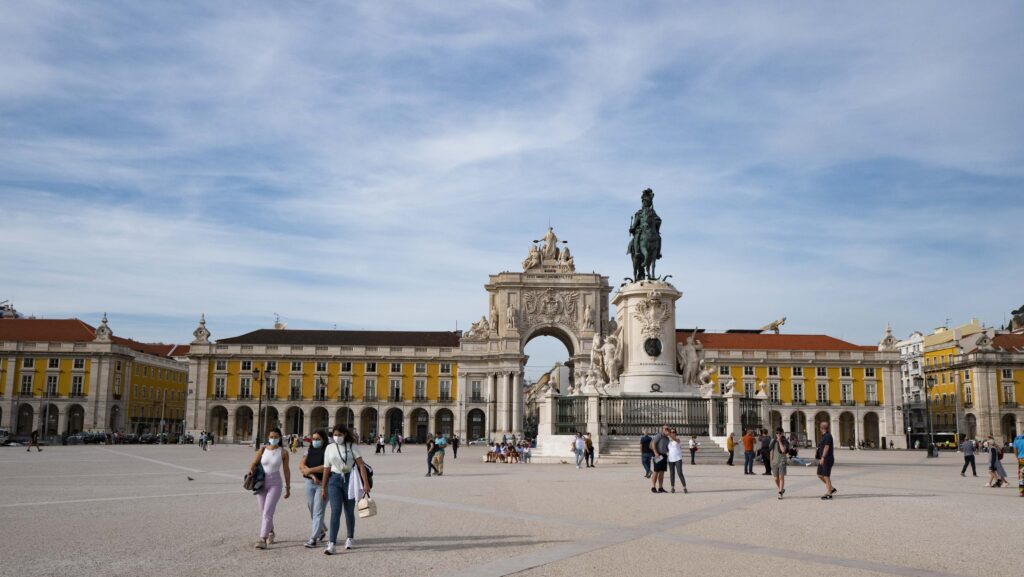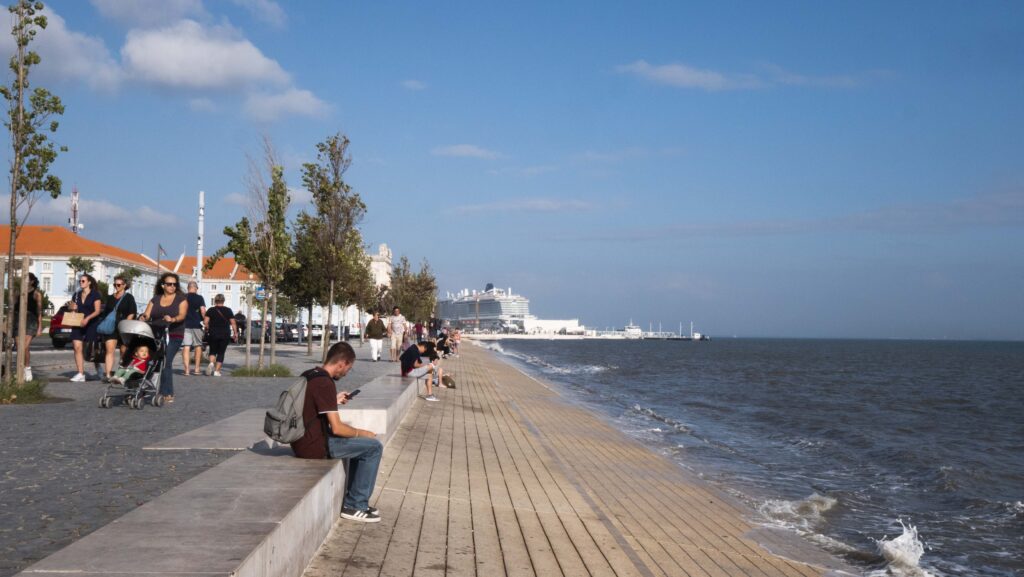 Another attraction in Baixa is this elevator designed by a student of Gustave Eiffel. It was built more than 100 years ago and on the top deck you have a nice view around Lisbon. Keep in mind that it can be crowded here.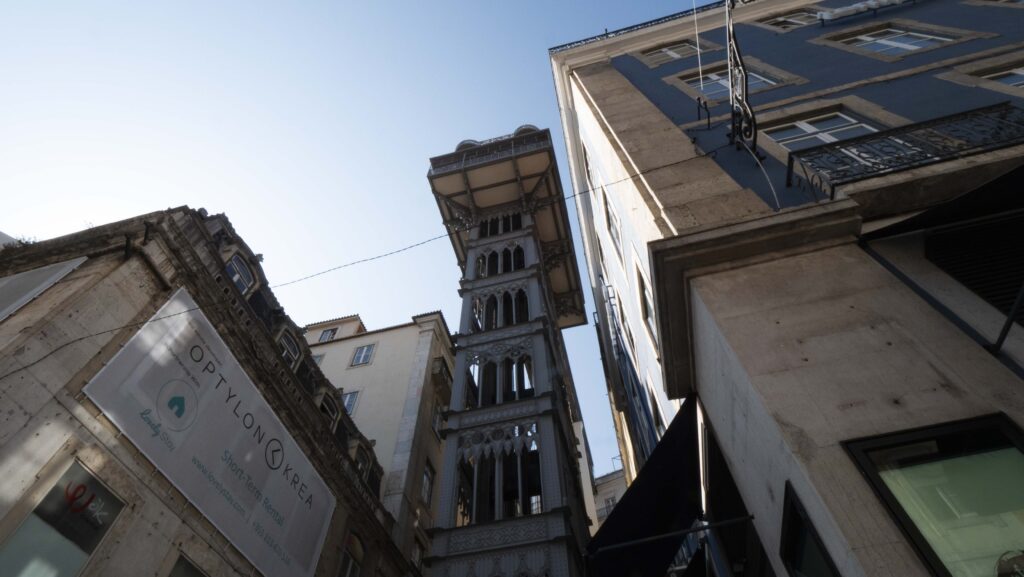 The Best hotel to stay at in Lisbon
During my visit here in Lisbon I booked a room in the DoubleTree Lisbon Fontana Park. It is a beautiful place to stay, because it is in a building with history. I like that. Once it was a metallurgy factory and it is transformed into a modern design with original building details. It is a perfect Urban Experience in Lisbon – staying at the city centre, within walking distance to the main city attractions and it is a 10 minute drive from the Airport. The rooms are beautiful and don't forget to check out the deluxe rooms with a Private Terrace. The gym access is included in your room rate and there is a (big) bar to have a drink. And in the Saldanha Mar Restaurant you can enjoy the real Portuguese gastronomy with local food from the 31 de Janeiro market which is next to the hotel.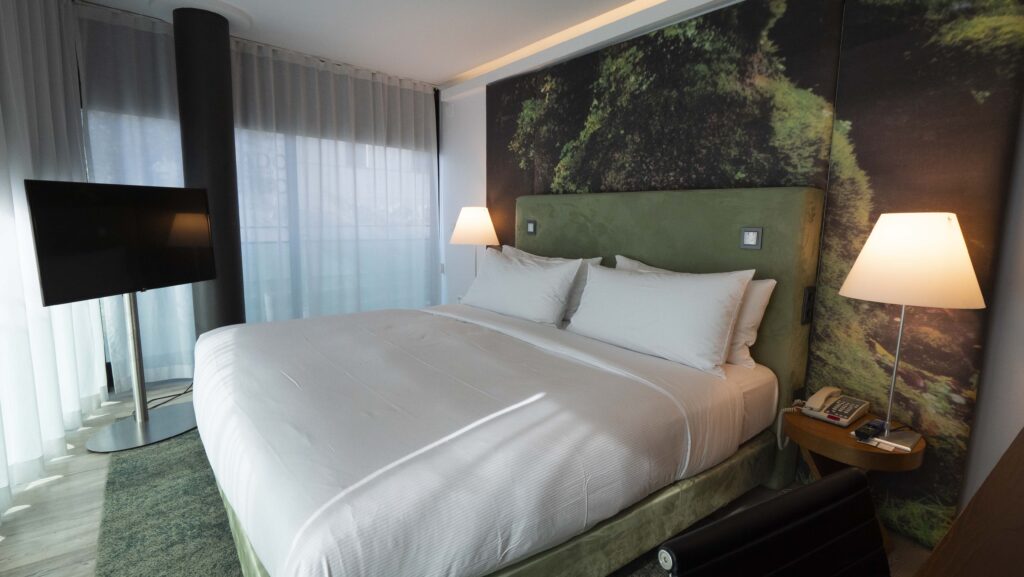 Cristo Rei
Portugal has long been ruled by a dictator, just like in Spain. Fortunately, the people are now free. Remains from that time can still be found in Lisbon. Like this huge Jesus Christ statue "Cristo Rei".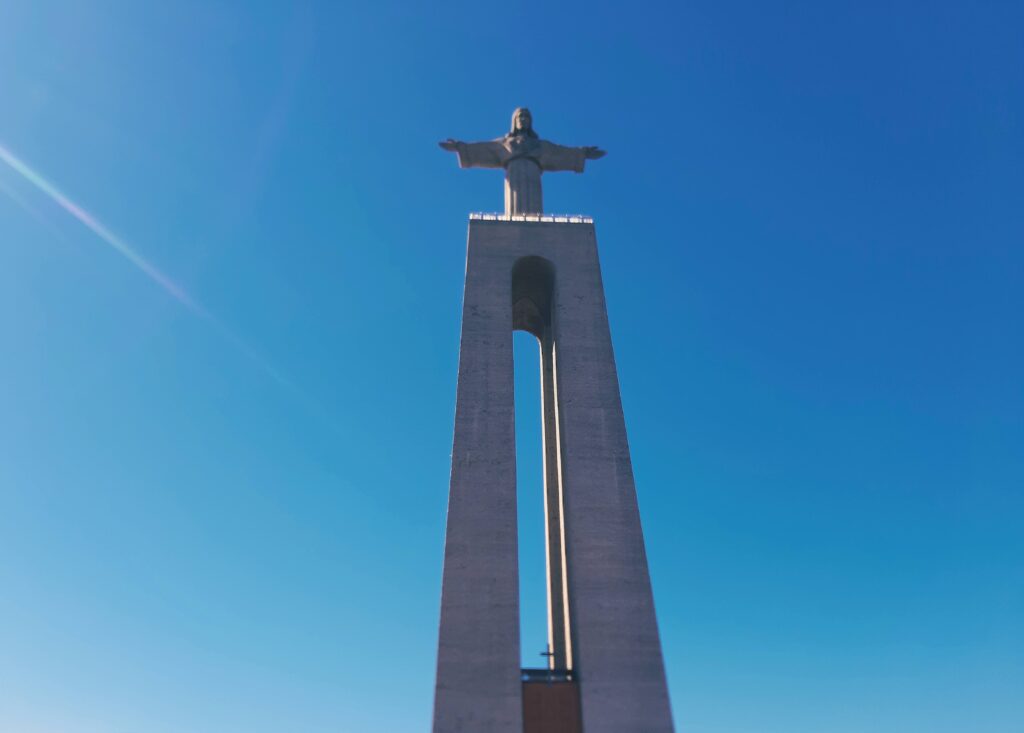 Maybe it reminds you of "Jesus the Savior" from Rio de Janeiro. That's right. This is a copy. You realize how big this thing is when you stand in front of it. 75 meter! In front of the statue you have an observation deck, where you can take the most beautiful pictures of the city. Visit Cristo Rei in the morning, because then the position of the sun is then really good for best photo results.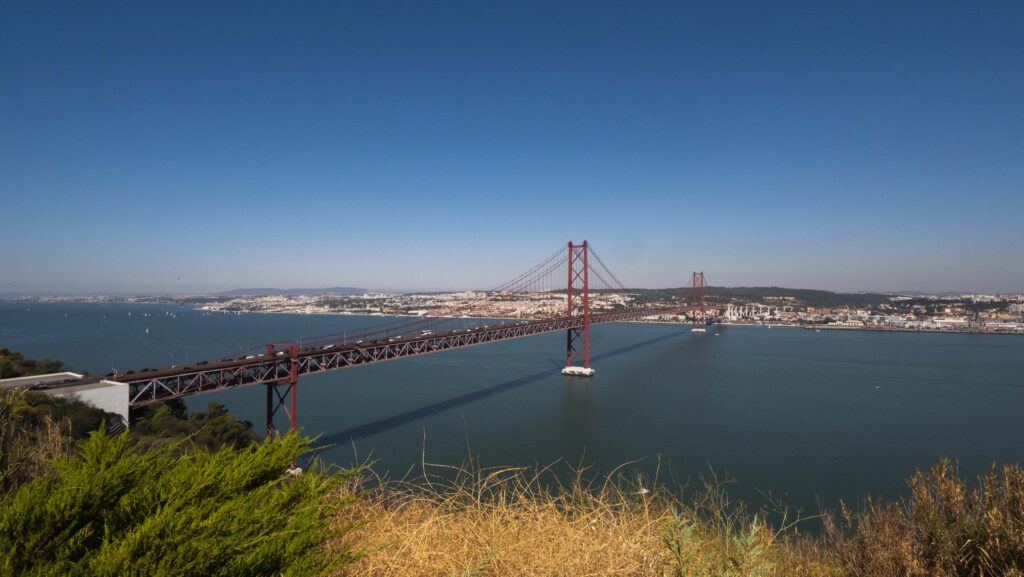 I traveled to the statue with a cab over the Bridge of the 25th of April. This is the San Francisco Golden Gate Bridge look a like. From the city to the statue you pay no toll over the bridge, back on you way back you have. So my advice is to walk back and that is downhill to the place Almada, from here you can take a ferry back to the city. Almada is a cozy neighborhood to sit down on a terrace for a drink or snack. In total It's a 45 minutes walk from the statue to the ferry service. A single journey sets you back 1,80 euros.
Torre de Belém
This is a nice old building to see, Torre de Belém. In the past this tower was used as a place of defense, a prison and a telephone exchange. Multifunctional. "To be honest it's a good place for a prison, because without a swimming certificate you can hardly escape here. It is surrounded by water.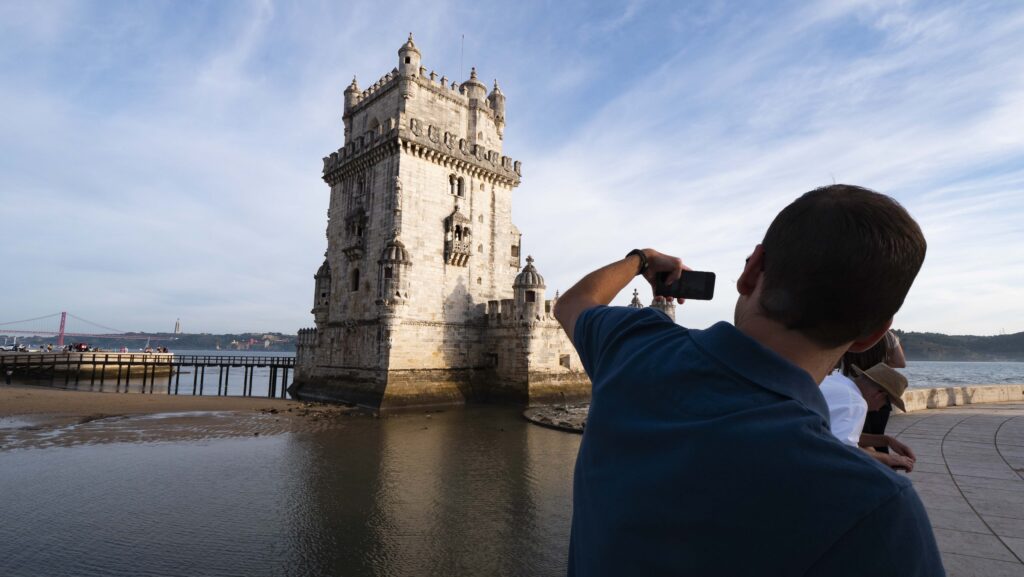 Weather – Best time to visit Lisbon
What is the best time to visit Lisbon? In my opinion the months are April, May and September or October. Mostly sunny days and a temperature between 25-30 degrees Celsius. Check the Lisbon weather today.
Street Art in Lisbon
You can enjoy the most beautiful Lisbon street art, just beside the ferry terminal when you come back from the Cristo Rei statue.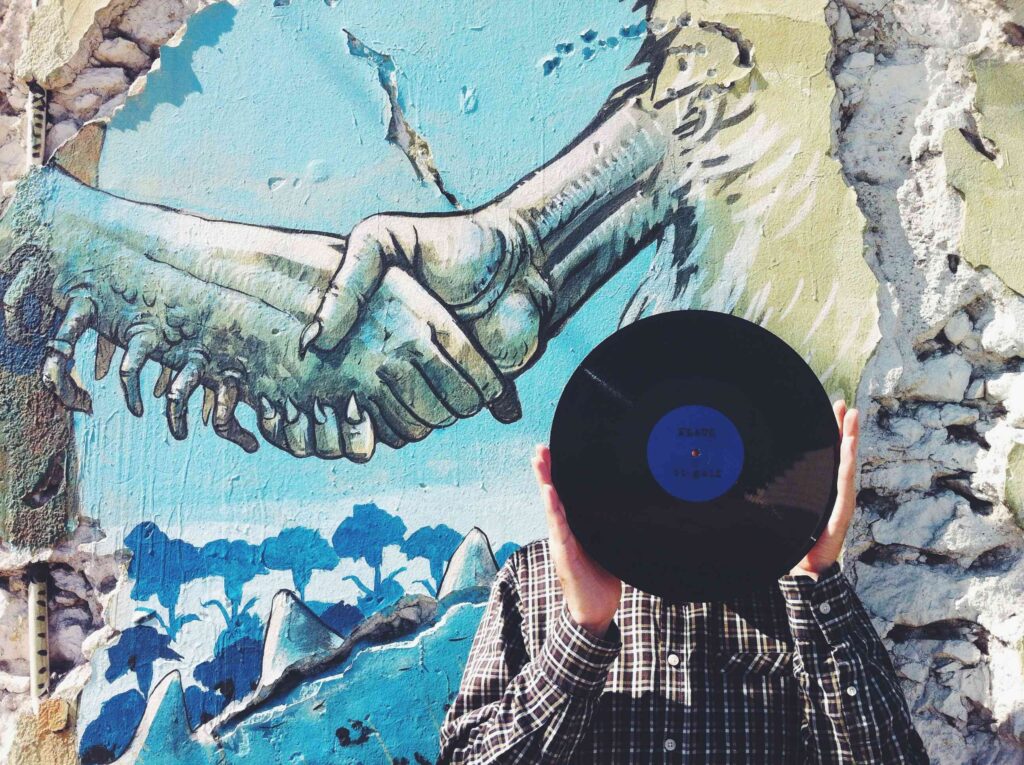 Eating in Lisbon – LX Factory
There are many nice restaurants in Lisbon. Actually for me it is one the best cities to eat fish. My favorite restaurant is Prado. Don't forget to make a reservation!! A nice place where you can find a lot of restaurants together is the LX factory. It's a trendy spot with old renovated buildings. Besides restaurants there are bars and boutique shops.
Cool rooftop bar in Lisbon
When you don't know this rooftop bar is in the city , you certainly miss this great spot, because it is on the roof of a parking garage. It's called "Park". It is often very crowded, so finding a place can be difficult. If you're lucky you have a beautiful view over the city, during the sunset, with a delicious cocktail.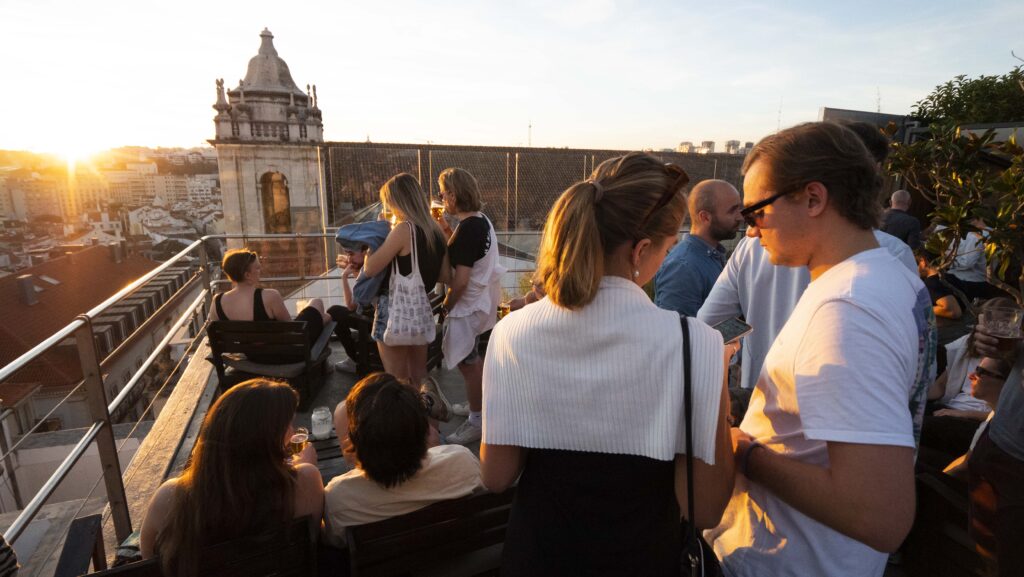 Beach near Lisbon
There are beaches near Lisbon. It's quite a journey to go to the beach. It's an hour ride with public transportation. I took the Uber Taxi service for around 15 euros and the trip will take around 20 to 25 minutes. One of the most famous beaches is "Carcavelos".
Bairro Alto – Lisbon Nightlife
Another nice neighborhood to visit is "Bairro Alto". Before the 1990's this was the impoverished district, but is refurbished. During the day it is not that crowded, but during the evening and night this is the place to go for a drink.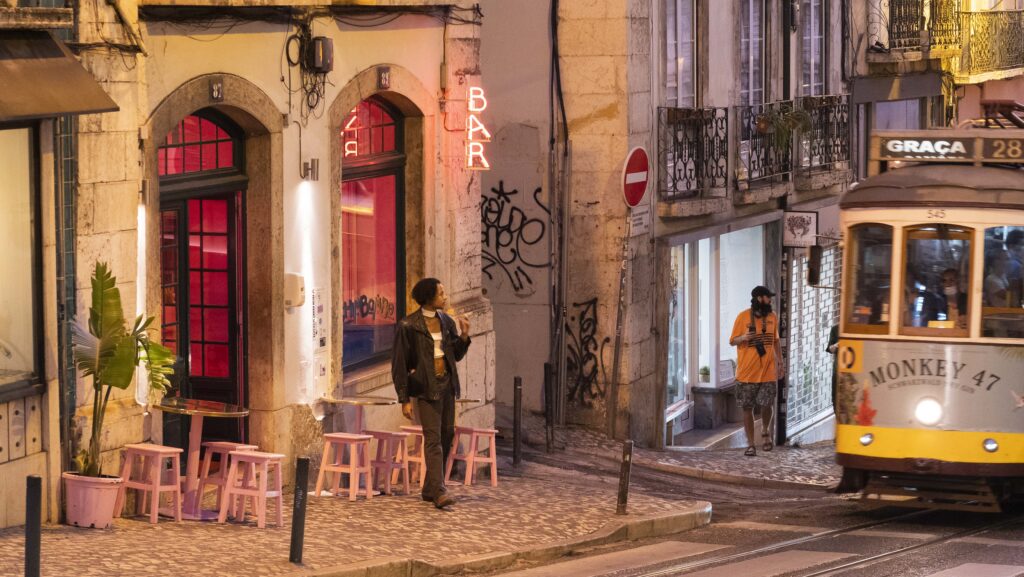 Parque das Nações
That everything in Lisbon is "really" old. A good example is Parque das Nações. This park was built for the 1998 World Expo around 30 years go. You can get there in about 15 minutes by cab from the center. It is a nice place to see if you have some time left. The main attractions are a huge aquarium, modern buildings and a cable car.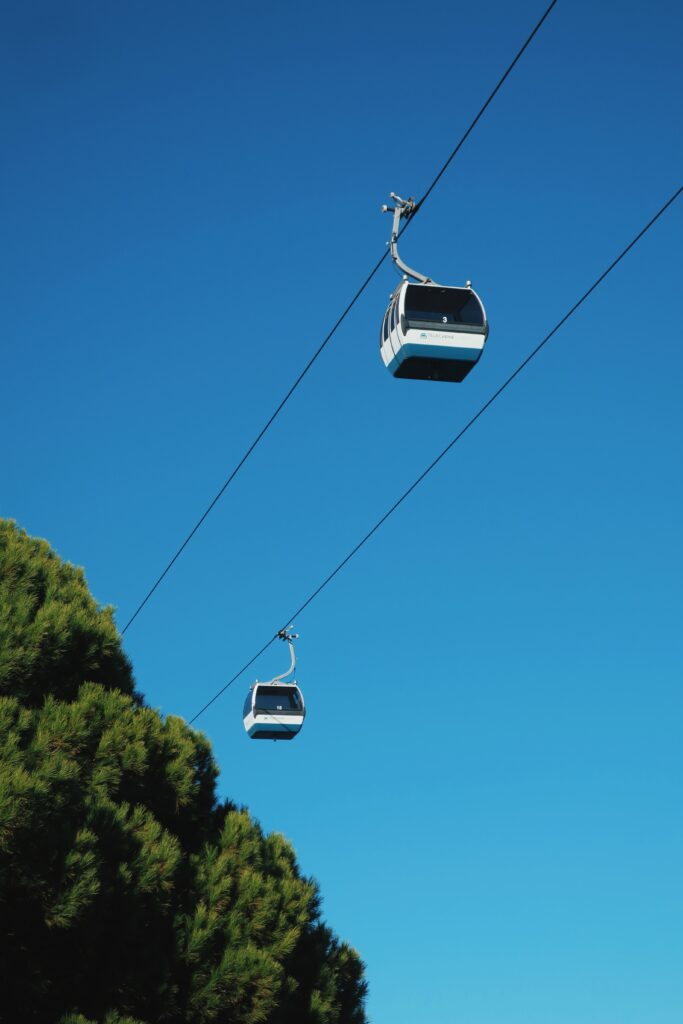 Sintra
When you are a few days in Lisbon then a Sintra visit is worth every penny! It's a small village near Lisbon. It's beautiful with these castles, manors and palaces… with the nicest gardens. Sintra originated in the time when there were no smartphones and televisions, about 300 years before Christ. Then there was a Celtic moon temple here. The name Sintra is derived from the Celtic name Cynthia, which means moon. A taxi journey from Lisbon to Sintra will take around 35 minutes, but if you travel by train it will be 45-50 minutes.
You can book your tickets for your Sintra visit with this link.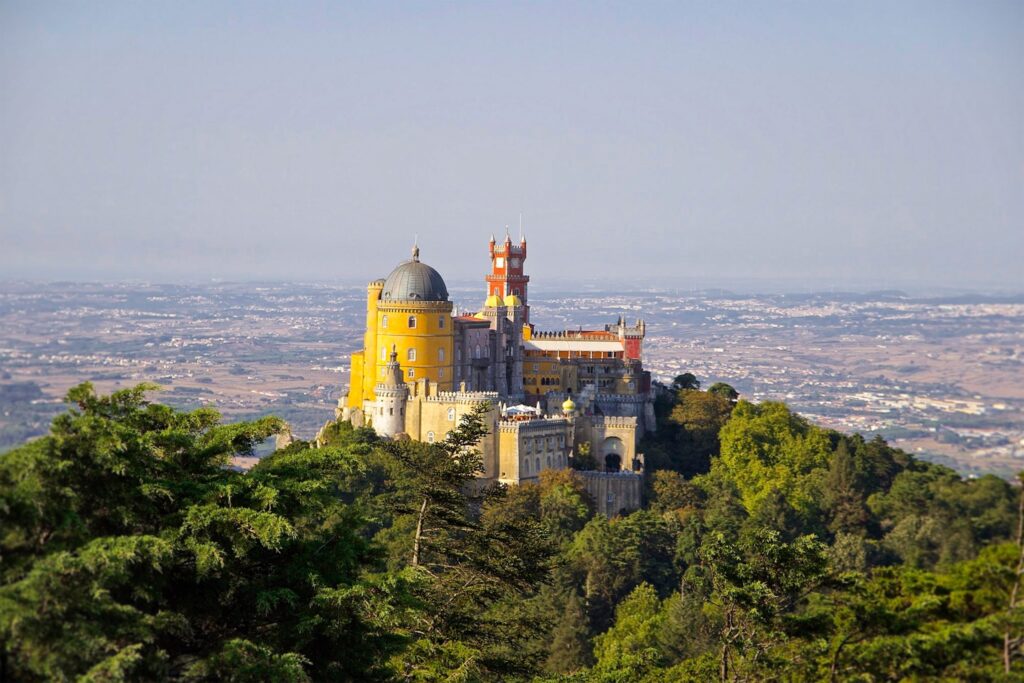 Get more Travel inspiration with other Travel Guides: